Everything that you can do with your blog or the individual posts in order to improve ranking at search engine results page (SERP) is on page SEO. Contrary to common belief, on page SEO is more important than off page SEO because search engines evaluate your site based on original content, keywords and a logical site structure (sitemap). If you put duplicate content on your blog, then no matter how many backlinks you have, you will end up getting your site penalized by search engines.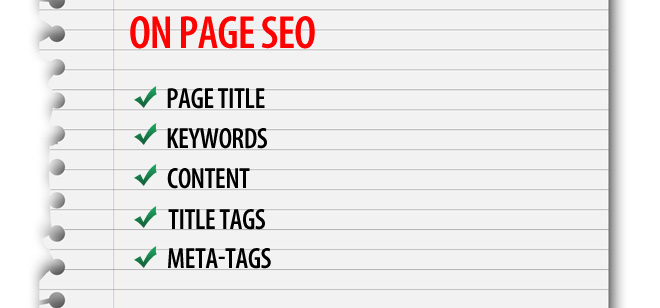 Everything I have discussed so far constitutes on page SEO. If you haven't read the previous lessons yet, I would highly recommend that you go ahead and do that. This part is going to be sort of a conclusion to a major portion of SEO course that is on page SEO.
Keywords:
Keywords research is the first step before jumping into the world of blogging and SEO. Proper keyword research will save you a lot of time and effort. If you start off on the wrong track, you will eventually lose interest and quit. Frequent updates are important to your blog and that makes keyword research important as well. You can check out the article about "how to do keyword research" for better understanding.
Meta tags:
Meta tags help search engines better categorize your site. Your search rankings are of no use if your site is not going to show up for relevant search queries. Descriptive Meta tags help you attain that relevance.
Meta description:
Meta description is the excerpt that appears on search engine results page (SERP). You have to make sure it's catchy; otherwise people won't end up on your site. It does not mean that you have to start your posts with completely illogical introductions. In fact you can write the articles any way you want and then use WordPress plugins to give it a custom Meta description. This will help search engines spiders understand your site as well as attract more visitors.
Title:
I have already discussed the importance of page titles in the article "better keyword placement means better SEO". Titles are what people will remember, titles are your first impression and probably last ones, titles get bookmarked so they have to be catchy to attract visitors and they have to be descriptive for search engines.
URL:
Your post names must appear in URLs because they are always indexed by search engines, otherwise they can't connect back to your site. Keywords in URLs will let search engines decide where to put your website and when to show it to users.
Internal links:
If you read my story, I talk about having missed some pieces from the SEO puzzle well this is one of them. Initially I did not know what internal links were, how to build them and their significance when it comes to search engines. But now I know and here it is. Internal links tell people what they don't know about your site. You might have a great article sitting there but nobody reads it because nobody knows about it. But if you have it linked to other pages, people will eventually get to it and they might like it more than the other pages.
Another good thing with internal links is they make your visitors curious of what they lead to. In that curiosity, they click and keep visiting your website instead of bouncing off. This increase average visiting time, an important parameter with search engines to evaluate the popularity of your stuff with human traffic.
Images and videos:
Images and videos allow your website to show up for different content types. If someone is searching for an image that happens to be on your site they might end up on your site, like it and share it with friends thus bringing more traffic.
If people find interesting video about any kind of stuff, they will most certainly share it with their friends via Facebook, Twitter or any other media and they chain might go on.
This was all about on page SEO, in the next lesson onwards I would be talking about off page SEO and different tips and tricks related to it.