If there are 100s of ways to make money online then there are 1000s of ways not to make money online. Now you might think, "Why would I want to read about ways to not make money online?"  Well, these are the traps or scams you need to avoid while looking for online work. If you have ever tried to make money online, then I can bet you have gotten into one of these scams and probably lost money as well. Anyhow if you haven't, good for you. I am putting together these scams so that nobody gets scammed anymore.
Sit idle: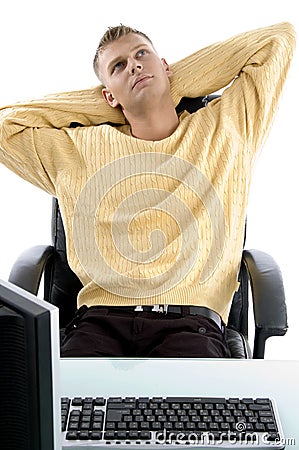 Now this might seem silly but it is the most popular way to not make money online. Many people turn on the internet to make some money online but they end up wasting time on facebook or get stranded here and there. If you are really willing to make money online, you will have to work. It might be learning SEO, learning and practicing forex, setting up your website, selling products for affiliate commission or freelancing. All of these money making ways demand lots of work. The more you work more money you will make.
I am not saying that you should quit enjoying but you should maintain a balance between entertainment and online work. Give appropriate time to whatever business you are managing and then go for fun. Keep doing something productive on daily basis and you will be what you want to be. Even if you want to be a millionaire you can be, with a lot of work, obviously.
Invest in hyips:
High Yield Investment Plans (HYIPs) are the worst approach you could take to make money online because
they will always rip you off of your money. These are the websites that promise you a certain percentage of money without requiring any work on your part. If you look for how they make money you will find something like this on their FAQs page.
"We have a team of highly skilled professionals who make money trading forex. You should understand there is always a risk involved with trading."
Actually here is the idea of how they scam you. Someone somewhere in the world will collect about $100 and decide to make a HYIP site. He will spend half the money for domain, hosting and a HYIP template which will make the site look professional. Let's say your friend finds out about the site and joins it. He will invest little money because of the possible risk but he will get paid as promised. The site owner will pay him from whatever is left from that $100. Then some other people will join and get paid. Actually an Investment made by new comers is paid to the old ones. Then your friend refers you to that HYIP site and you are all excited to invest and earn without working. But before you know it the owner has reached the required target and site shuts down after your investment. So never fall for HYIPs.
Ponzi schemes:
These are also like HYIPs but they require you to do some work as well. This makes the plan look real. The work maybe to click some ads or post ads about that site to social media or classifieds etc. they actually get you to promote their site. You invest, promote their site and never get paid.
Invest in forex autopilots:
There are many stand alone sites promising you some autopilot making you millions of dollars. They are all promising with real-looking proofs. They have actually generated those proofs using the charting softwares. Those softwares are used for backtesting any strategy or Expert Advisor for efficiency. They will promise you that their autopilot works completely automatically and you don't have to worry about loss in trading.
Just think to yourself, if that autopilot was making millions why would they put a price of $27 or $99. It should either be free or cost much higher if they really worked. Why go to so much trouble for couple hundred bucks if you are already making millions?
Pay for lotteries:
Many lottery sites are also scams. They will send you spam emails saying that you won $10000 or $100000, and ask you to pay a meager fee of $15 or $20. Just ask yourself, when did I buy a lottery ticket? Well if you haven't then why are they being so generous and blessing you with thousands of dollars? And if they are being generous enough then why ask for a few dollars as fee? If they really need it for some sort of processing they can cut it from your prize.
But the fact is that you did not win anything. There is some random guy on the other side, trying to make some money by scamming people. So don't fall for that.
Paid to click sites:
Not all of the paid to click (PTC) sites are scams but most of them are. Due to the good reputation of PTC sites many people have started using them as a way to scam people. They offer very little money, a fraction of a penny to free members and per click revenue shoots off as you upgrade to some higher level of membership by paying some money.
Payment cycles of PTC sites are about 2-3 months so you stay satisfied and keep clicking ads for them. The counter keeps rising in your account and when the time for payment comes, you are either banned or the site is down forever. They also follow the HYIP concept, reach a certain target and come up with a new site with a new name after some time.
All of the above mentioned ways are actually how you can get scammed on internet. I have fallen for most of them and I say this out of personal experiences that please DON'T use them. If there is any way to make legitimate long term income online, it is through hard work and dedication.
Here are some of the ways to make money online.